Main navigation
Important Pages
Language
Sub-navigation
[col1-1]
Winners of the ZKB Patronage Prize 2010
ZKB Patronage Prize 2010: Faifai (Japan)
Following intensive and constructive discussions the international jury board has decided to award the ZKB Patronage Prize of 30 000 Swiss Francs to the young Japanese company Faifai for their production «My name is I love you»:
«‹My name is I love you› is an expressive rendering of everyday life in a high-tech and capitalized world and represents an experimental, fast, lighthearted and exciting form of storytelling. In a transdisciplinary and refreshing way, the company mixes art forms such as comic, body language and video art. The pop esthetic sensory stimuli on stage reflect the glitzy life style of a young high tech generation in the urban jungle of Tokyo. Therein, the subjects define themselves through a consumer-oriented life style which equates money with love.»



ZKB Acknowledgment Prize 2010: Marcela Levi and Flavia Meireles (Brazil)
The ZKB Acknowledgment Prize of 5000 Swiss Francs goes to the Brazilian performers Marcela Levi and Flavia Meireles for the choreography «around the hole everything is edge»:


«With fascinating simplicity and precise choreography the two performers manage to create a space full of images on the topic of war and violence. Their fragmentary, poetic and unethical approach is touching and at the same time thought provoking. Flavia Meireles convinces as an outstanding performer and makes a significant contribution to the success of the performance.»
On the occasion of the 31st Zürcher Theater Spektakel, the ZKB Patronage Prize as well as the ZKB Acknowledgment Prize have been awarded for the 15th time. The jury made their choice from six productions nominated for the award.
More about the ZKB Patronage Prize
The detailed statement of the jury, the nominees and the members of the jury 2010 you find in the
press release.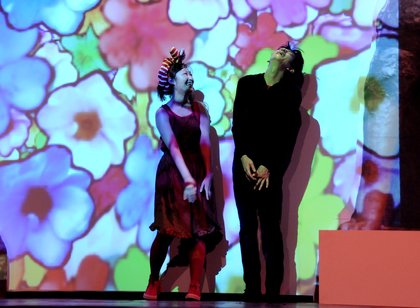 [col1-3]
[col2-1]
Contact
Zürcher Theater Spektakel
Stadthausquai 17
8001 Zürich
Tel. +41 (0)44 412 35 51
Fax +41 (0)44 412 35 74
E-Mail
[col2-3]